Description – 3 Day Multi-Skills
Begin each day with an exciting new project! This progressional leatherwork programme is designed to develop your traditional leather-working skills over 3 days. Perfect for both complete beginners and for students who would like to experience working on different projects, simultaneously. The programme introduces students to three different areas of leatherwork: Wet-moulding, small leather goods and a choce of either cylindrical box making or traditional belt making. Different tools, methods and leather are required for each, so students can expect an interesting and informative 3 days!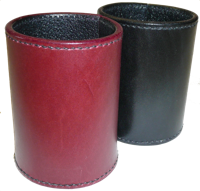 During their time at the workshop students will make 3 items, each introducing a new basic technique while building on the previous ones learnt:
Day 1: Wet moulding leather – Small moulded bag or belt pouch
Day 2: Creating small leather goods – multi pocket purse or wallet.
Day 3: Choose from; Basic cylindrical box making or making leather belts fitted with traditional buckles & solid rivets.
There will be a small choice of projects and pre-made patterns to choose and work from at each stage of the course. Students can also select from our range of leather, with the option of combining leather colours for their projects.
NB: students shouldn't be concerned about the pace of the programme as basic skills such as hand stitching can be completed at home if necessary.
How much does it cost?
The full fee is £570.00 per person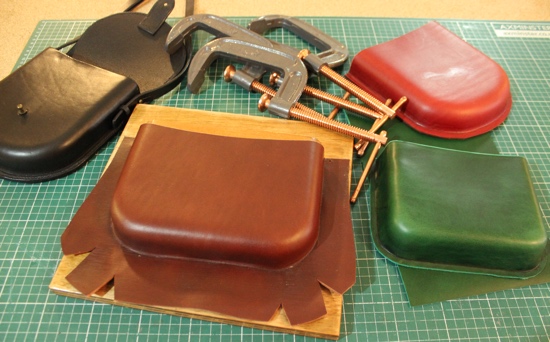 Tell me what's included in the price: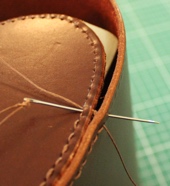 Three full days of professional leatherwork tuition with practical help and guidance during the course plus advice in sourcing essential leather, tools and materials so you can continue leatherwork at home. A work area is allocated to each student along with their own set of tools to use while they're here. All leather and attachments required to complete your three projects are included in the course fee. A plentiful supply of tea, coffee and welsh-cakes are provided too.
Student numbers for the 3 Day Multi Skills are set at a maximum of 2. Please contact us for suitability and more information.
Where is the course held?
At our small, but fully equipped workshop in the picturesque Georgian town of Aberaeron in Ceredigion, West Wales.  We're on the coast, just minutes from the harbour; the perfect spot to stay.
Where Can I Stay?
Aberaeron town has a good choice of B&B's, many just a short walk from the workshop.
How do I book a place on this course?
Simply click this Book Now button to book and pay for your course. Alternatively, you can request a date of your choosing; just contact us.
You can also buy a Gift Voucher
Tuition times are:
9.30 am – 4.30 pm
Tuition dates are:
JUN 2024 Fri 7th to Sun 9th
OCT 2024 Fri 18th to Sun 20th
Multi-Skills Leatherwork Course
Average rating:
2 reviews
Jul 30, 2021
Great course, friendly and well organised. Lots of one to one tuition and demonstration of skills. I had a very enjoyable three days and would totally recommend.
Jul 27, 2021
Excellent course, well organised and great teachers. Had a brilliant three days and thoroughly enjoyed every minute as I learnt so much. Would definitely recommend.