Creative Sketchbook Course
Description – Creative Sketchbook Course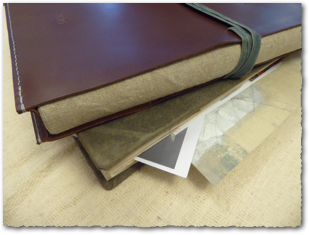 Design and create an exciting Creative Sketchbook whilst learning traditional leather-working skills. This one-of-a-kind course is for creatives who have a love of both textiles and leather and would like to create an inspirational Creative Sketchbook alongside a beautiful, protective, Italian leather sleeve. Your creative sketchbook – sometimes known as a visual journal – can be focused upon any subject and taken in any direction that your creativity chooses. This collaborative course assumes no knowledge of either art, textiles or leatherwork, but allows you to work alongside an accomplished textile artist as well as a professional, traditional leatherworker.
This two and a half day beginners course is suitable for all and is also the ideal complement to a prospective new project, life journey or change of direction. You will leave the course buzzing with ideas, yet will have gained the skills to organise these into a cohesive plan via your sketchbook. In addition, the time spent making your protective leather sleeve will equip you with all the skills needed to make more of these useful and beautiful leather items.
Come and join us to explore, experiment and fully immerse yourself in this wonderfully creative environment!
Creative Sketchbook tuition given by professional textile designer and artist, Sian Lester.
"A journal is the most indispensable starting point when 'seeding a change'. It's a place to find your individuality, gather, collect, experiment and play with your ideas in a relaxed, personal way. It's an invaluable practise to learn, whatever your background, so that you can focus in on your thoughts, referring back to them for future inspiration. It's the only way I can give myself the time and creative space to steer myself in the right direction."
Sian Lester
Course Content: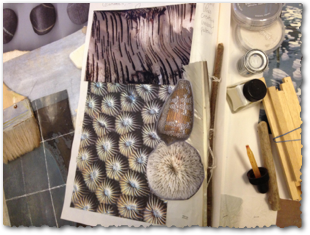 Creative Sketchbook:
Identifying colour palettes to complement your personality
Focusing on your theme and inspiration using mapping skills
Experimenting with mark making techniques both small and LARGE!
Cohesive placement of ideas using adventurous techniques and materials
Exploring medium – textiles, fabrics, leather, papers, text, images and 'found' items
Facing the blank page… and overcoming the fear!
Lively group discussions to fuel your creativity
Leather sleeve:
Cutting and preparing vegetable tanned leather for assembly
Mastering the technique for 'preparing a thread'
Become competent while using the harness awl
Traditional Saddle Stitching
Embossing and personalising your protective leather sleeve
Creating beautiful, cut edged seams
Complete a professional, leather sleeve to complement and protect your Creative Sketchbook
How much does the course cost?
The full course fee is £385.00 per person
You can book as an individual or as a group – the perfect excuse for a 'get-together!' Please be assured; we never cancel courses – once you have booked we guarantee the course will run.
Tell me what's included in the price: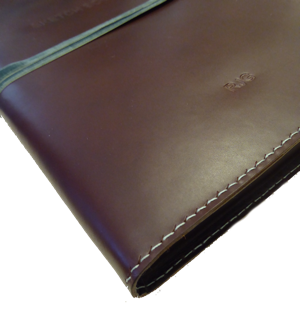 There are no hidden extras! All materials including textiles, papers, leather and A4 Journal are included in the course fee. Two and a half days of professional tuition with accompanying course notes and plenty of help and advice in sourcing supplies and materials so that you can continue to develop your skills at home. A spacious work area is allocated to each student along with their own set of tools and equipment to use while they're here. A plentiful supply of tea, coffee and afternoon cakes are provided too, so all you'll need to bring along is yourself and a packed lunch.
This course starts at 6.00pm on Friday evening and runs through to 5.30pm on Sunday. To ensure that everyone gets individual attention we have two professional tutors providing tuition to small groups of 6 only. Please contact us for suitability and more information.
Where is the Creative Sketchbook Course held?
Our exciting 'Creative Sketchbook Course' is held in a picturesque 19th Century Welsh chapel at the foot of the Preseli Mountains in Pembrokeshire, West Wales…. Perfect surroundings to relax and enjoy the course.
How do I book a place on this course?
Simply click the Book Now button, fill in your details and we will be in touch very shortly with payment instructions, normally via cheque, BACS or Paypal… Book Now
Course dates are: