Hand Stitched Leather Book-sleeve Course – Beginners level
Description – Hand Stitched Leather Book-sleeve course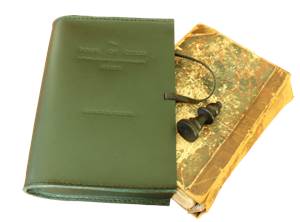 Regrettably, this course is not running in 2022
A relaxing, two day, hand stitched leather book-sleeve course for complete beginners, or for those who would like to improve their stitching technique.
This course' will teach you how to make a beautiful embossed and ribboned book-sleeve as well as a traditional leather book jacket. Everyone has a favourite book and this course is a wonderful opportunity to spend a relaxing weekend making and embossing a protective casing or cover. For older books – those that have become very worn with use – a leather slip case or jacket may be the kindest way to protect it. This course allows you to make one of each style while you are here.
Students will be shown how to make basic patterns for the book sleeves and jackets and will be given plenty of help in drawing these up. Your projects may also be embossed with a few words or initials, so perhaps a book title and your own initials. Students will be contacted 6 weeks before the course start date to enable us to prepare the artwork for their professional embossing plates.
Hand stitching is an integral part of this course and the relaxing, repetitive pattern is easily mastered after just a few stitches. Projects will be made with vegetable tanned leather and students will be spoilt for choice when it comes to selecting from a range of seven beautiful, traditional leather colours, for their projects.
Does the Course Teach Enough Skills for me to Continue Making Book-sleeves at home?
Yes, the course programme is designed to equip students with the skills to continue making leather projects at home. A beginners Leatherwork Toolkit will be available to purchase for students who are keen to carry on making Leather Book slips, sleeves and jackets after the course.
How much does it cost?

The course fee is £360.00 per person
Tell me what's included in the price:
All leather and materials required to make your book-sleeve and jacket are included in the course fee. Two full days of professional leatherwork tuition with helpful course notes and advice in sourcing leather and materials so you can continue developing your skills at home. An ample supply of tea, coffee and afternoon cakes are provided too, so all you'll need to bring along to this leatherwork course is two favourite books, yourself and a packed lunch.
For your assurance; We never cancel courses; once you have booked, we guarantee the course will run.
Where is the course held?
The 'Hand Stitched leather Book-sleeve Course' is held in a beautiful Welsh converted Chapel at the foot of the picturesque Preseli Hills, in Pembrokeshire, West Wales. We have spacious work areas; helpful, friendly staff; a log fire and a very warm welcome.
How do I book a place on this course?
Simply click the Book Now button, fill in your details and we will be in touch very shortly with payment instructions, normally via cheque, BACS or Paypal… Book Now
Course dates are: