Description – Leatherwork Open Course
This 'Leatherwork Open Course' allows you to plan and create your own leatherwork project if you choose. Spend four days on any project of your choice. From designing, to developing and on to creating, we'll help you take your design from paper, to reality. Using natural vegetable tanned leather and traditional hand stitching techniques you will learn how to build your design in a structured and successful way.
With the support of professional tuition you will to learn how to make a working pattern, maquette and an order of construction, to ensure the success of your finished piece – for the more advanced students this will be a useful skill to revisit. As part of the course you will select, cut and prepare leather pieces, create and fit elements relevant to your design such as pockets, billets, a handle or straps. You will also be guided through each step of the making process as you work, enabling you to confidently complete your project at home. This course is equally suitable for both men and women. Beginners are also welcome.
And there's more…
The Leatherwork Open Course is not restricted to making bags as students may choose to make any style of project except 'framed' work or leather masks. Each student will be encouraged to design their own project or alternatively, incorporate their own style into one of our pre existing designs. For students who prefer to leave the designing to us, we have a good selection of projects to choose from. Alternatively, students are also welcome to make one or two products as shown on our Leather Bag Making, Leather Satchel or Moulded Leather Bag or Rucksack courses if they would prefer to work from pre-prepared patterns and course programmes. Remember, this is an 'open' course, so there are plenty of options…
Other examples of projects students may choose to make, include:
Bags
Moulded work
Tubes
Briefcases
Belts
Wallets
Tablet cases
Rucksacks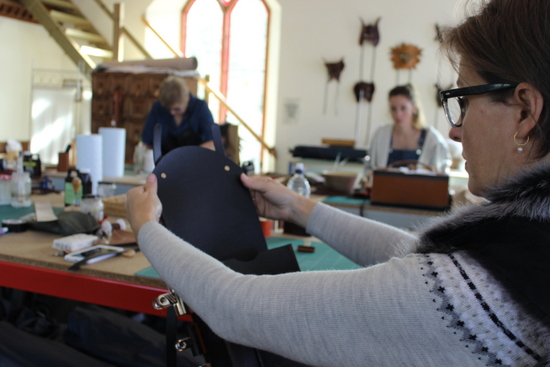 How much does it cost?
The course fee is £695.00 per person and is payable in advance
We can offer a maximum of 4 places on this course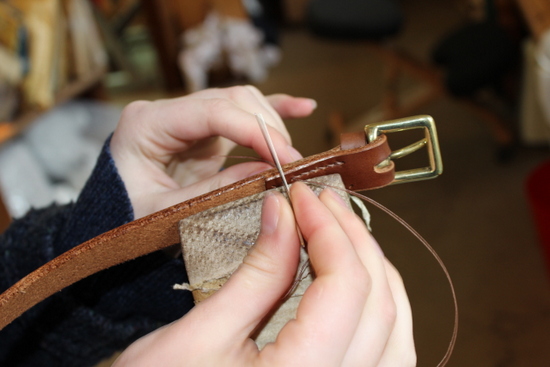 Tell me what's included in the price:
A predetermined quantity of leather and attachments allocated to each student is included in the course fee, although the cost of materials outside of this will be additional. A spacious workspace is allocated to each student and tools, tea, coffee and afternoon cakes are provided too so all you'll need to bring along each day is yourself and a packed lunch.
To ensure that everyone gets individual attention we have two tutors providing tuition to small groups of 4 only. Please contact us for suitability and more information.
Where is the course held?
Our fabulous four day open course, is held in a beautiful 19th Century Welsh chapel at the foot of the Preseli Mountains in Pembrokeshire, West Wales. Upon booking and payment, we will send you details of local accommodation providers.
Where Can I Stay?  Friendly and welcoming accommodation near us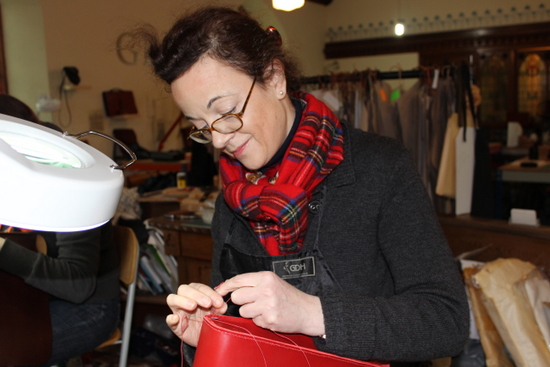 How do I book a place on this course?
Simply click the Book Now button, fill in your details and pay by Credit/Debit Card or by Paypal…
Course dates are:
JUL 2019 Thu 4th to Sun 7th
OCT 2019 Thu 10th to Sun 13th
Leatherwork Open Course
Average rating:
2 reviews
Nov 27, 2017
It took me a while comparing different leather courses to decide which one was best for me .... my criteria being that I wanted to learn some basic leatherworking skills whilst still being able to work on my own designs to the point that I would be able to produce what I wanted once the course was over.... and that was achieved AND MORE.
Gaynor was very patient with me before I committed to spending the money and answered all my questions and asked a few of her own too to help me get clearer about what I wanted to achieve.

Once there, I knew I was in the hands of not only someone who knows her craft inside out and upside down but was a fantastic teacher with eyes in the back of her head!

There were also at least one other experienced leather worker there at all times helping so no shortage of help and guidance.

There was no shortage of tea, cake, warmth ( in both senses as it was cooold November when I was there) and humour.

I've sold two bags already and I will be going back to learn more next year xxx
Nov 14, 2017
The course was better than I could have possibly hoped for. The whole thing was professionally delivered in a friendly manner, it's clear from the outset that Gaynor works incredibly hard to make sure everyone gets help when they need it. All the staff were polite and also very helpful. The tools and equipment supplied were of excellent quality and everyone had their own set. Finally all I have to say is well done and I will be back for more.