Design. Develop. Make. An 'open' programme.
Back by popular demand, Design. Develop. Make. allows you to plan and create your own leatherwork project if you choose. Spend four days on any project of your choice. From designing, to developing and on to making, we'll help you take your design from paper, to reality. Using natural vegetable tanned leather and traditional hand stitching techniques you will learn how to build your design in a structured and successful way.
With the support of professional tuition you will to learn how to make a working pattern, maquette and an order of construction, to ensure the success of your finished piece – for the more advanced students this will be a useful skill to revisit. As part of the learining programme you will select, cut and prepare leather pieces, create and fit elements relevant to your design such as pockets, billets, a handle or straps. You will also be guided through each step of the making process as you work, enabling you to confidently complete your project at home if necessary. Design. Develop. Make. is equally as suitable for beginners as it is for more accomplished leatherworkers.
Further details…
Design. Develop. Make. is not restricted to making bags as students may choose to make any style of project except 'framed' work or leather masks. Each student will be encouraged to design their own project or alternatively, incorporate their own style into one of our pre existing designs. For students who prefer to leave the designing to us, we have a good selection of projects to choose from. Alternatively, students are also welcome to make one or two products as shown on some of our other course pages or perhaps from our popular magazine, Waxing the Thread. These are ideal for those who would prefer to work from pre-prepared patterns and course programmes. Remember, this is an 'open' course, so there are plenty of options…
Just a small number of project examples that students may choose to make:
Bags
Moulded work
Tubes
Briefcases
Belts
Wallets
Tablet cases
Rucksacks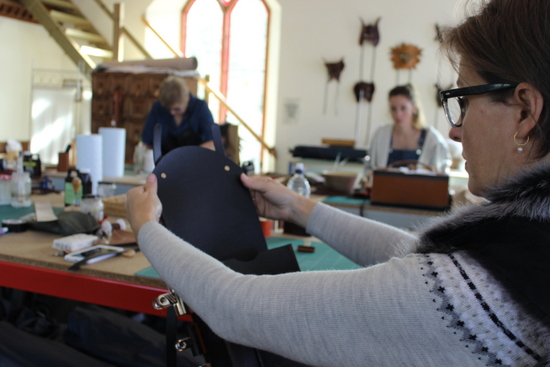 How much does it cost?
The full fee is £750.00 per person and is payable in advance.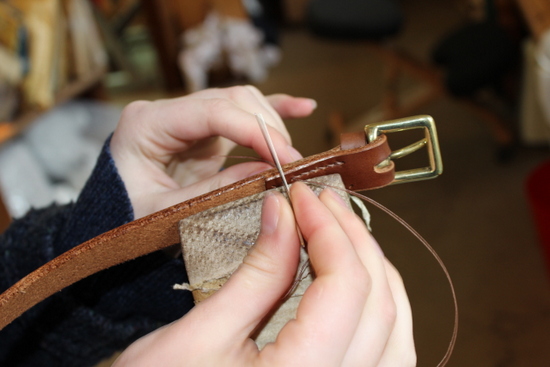 Are there any other costs?
Please note that leather, hardware and other materials are not included in the fee and students will be charged for these at the end of the course.
Your own work area and a full tool kit will be allocated to each student for use while they're at the workshop. Tea and coffee are also provided.
To ensure that students receive individual attention places are restricted to 2. Please contact us for suitability and more information.
Where is Design. Develop. Make. held?
Our fabulous four day programme is held at our small, but full equipped workshop in the picturesque Georgian town of Aberaeron in Ceredigion, West Wales…. We're on the coast, just minutes from the harbour; the perfect spot to visit and enjoy the course.
Where can I stay?
Aberaeron town has a good choice of B&B's, many just a short walk from the workshop.
How do I book a place?
Simply click the Book Now button, fill in your details and pay by Credit/Debit Card or by Paypal…
Book Now.   Alternatively you can buy a Gift Voucher
Tuition Times are:
9.30 am – 4.30 pm
Tuition dates are:
JUN 2024 Thu 20th to Sun 23rd
Leatherwork Open Course
Average rating:
5 reviews
Jul 19, 2019
The open course offers an opportunity to make an item of choice. I had wanted to make a leather bag of my own design for sometime but had struggled to find anywhere that offered this as an option. So - ready with my design in hand I decided to give it a go.

This course will not disappoint. Gaynor and her friendly and knowledgable team (the amazing Julie and Hannah) provided guidance through every stage of the leather working process. They answered lots of questions and demonstrated a level of patience which was quite remarkable given that everyone was working on a different project! The ratio of students to instructors is the key here which is why it all works so well. Gaynor's phenomenal expertise and experience and clear passion for her work shine through every step of the way.

I spent the 1st day making a tote bag from their pattern to get me started which was useful advice for an absolute beginner (I completed at home and was very pleased with my 1st effort!) I then moved to my design, initially making a model then starting to construct the bag in carefully explained stages acquiring enough skills to complete when I returned home.

The course moves at a good pace, there are plenty of breaks and a cakes and a fair few laughs along the way! I thoroughly enjoyed myself and would highly recommend. Gaynor's generosity in sharing her knowledge of the trade is overwhelmingly refreshing.

I had a great time and would love to go back again. If you've been wanting to learn a new skill, to follow a new career path or simply have fun making something out of beautiful leather this is a great way to do it. Set in a chapel in the beautiful Welsh countryside this is a unique and special place to learn and have fun with some special people to help and encourage.
Jul 12, 2019
I had been looking for a leather working course to verify the basics and push me forward to designing my own bags.
After reading the 'Waxing Thread' magazine written by Gaynor, I liked the way she writes and felt that she would be a good teacher. Gaynor has a lot of knowledge which she is very generous sharing and is a very patient teacher. Also, she and her helpers ensured that no-one was left struggling or unsure of what to do next.
The chapel workshop is a beautiful, light & airy building creating a calm & relaxing atmosphere for creativity.
We learnt how to plan & create a model before cutting our leather so we do not make expensive mistakes. A very valuable lesson!
I would recommend anyone to read Waxing Thread (issue 4 due in the autumn) & attend a course with Gaynor. I am looking forward to booking my next course!
Apr 18, 2019
What can I say but I loved every minute of the 4 day course. I made two bags and everyone who has seen them wants one as they look so professionally made thanks to Gaynor and her lovely staff. Will I be going back for more ? Oh! Yes.