Moulded Leather Bag or Rucksack Course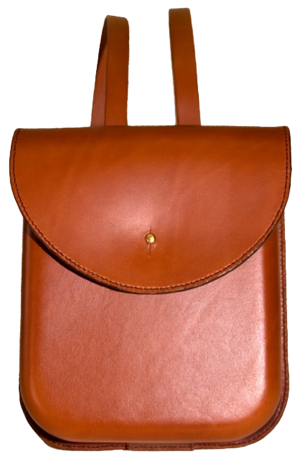 Description – Moulded Leather Bag or Rucksack Course
Regrettably, this course is not running in 2022
This course is an opportunity to learn how to wet-mould vegetable tanned leather in order to create a moulded leather bag or rucksack.This three day leatherwork course is part of our 'Open' course. It teaches the basic skills required to create moulded leather goods and with a choice of making a small or large, bag or rucksack, this course is suitable for everyone. This is a very practical, hands-on course focusing on wet-moulding and hand stitching vegetable tanned leather. There will also be plenty of opportunity to ask questions and to learn additional workshop techniques that can only be obtained by attending a course in person.
During this exploratory course you will make two hand-made, wet moulded leather products; the first will be an item made with russet leather to help build your skills and confidence, while the second will be a leather bag or rucksack made using pre-dyed vegetable tanned shoulder. Both items will made from a pre-drawn pattern. This course is suitable for complete beginners as students will be taken through the wet-moulding process step-by-step.
Hand stitching is an integral part of the course and students will be shown how to keep their stitching tools sharp. Information relating to the suitability of leather for wet moulding will be discussed and students will have the opportunity to work with two different types (or finishes) of leather, during the course. Students will be encouraged to ask questions within the small group setting and course notes will be provided, giving detailed instructions should students wish to continue with moulded work at home.
Throughout the three day course you will have have the use of your own toolkit, a spacious workstation, the assistance of a professional tutor and workshop staff, and can expect plenty of support and encouragement to help you learn and master this fascinating process.
How much does it cost?
The course fee is £540.00 per person
Please note, we can only offer 4 places on this course. You can book as an individual or group. Please contact us for suitability and more information.
Please be assured; we never cancel courses – once you have booked, we guarantee the course will run.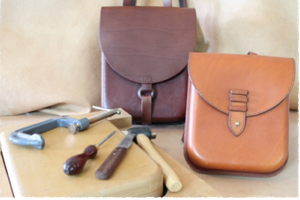 Tell me what's included in the price:
There are no additional costs. All leather and attachments required to make your moulded leather bag or rucksack, are included in the course fee. Three full days of professional leatherwork tuition with course notes and plenty of help and advice in sourcing leather and materials so you can continue 'moulded' leatherwork at home.  A spacious work area is allocated to each student along with their own set of tools to use while they're here. A plentiful supply of tea, coffee and afternoon cakes are provided too, so all you'll need to bring along is yourself and a packed lunch.
Where is the course held?
Our Moulded Leather Rucksack course is held in a beautiful 19th Century Welsh chapel at the foot of the Preseli Mountains in Pembrokeshire, West Wales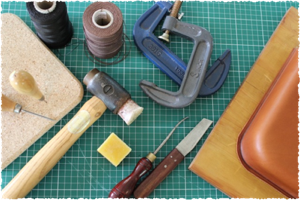 How do I book a place on this course?
Simply click the Book Now button, fill in your details and we will be in touch very shortly with payment instructions, normally via cheque, BACS or Paypal…
Book Now.   Alternatively you can buy aGift Voucher
Course dates are:
GDH Leather Courses 2022
Average rating:
4 reviews
Apr 1, 2016
What an amazing course! I spent three whole days making a beautiful two tone leather rucksack bag (green and tan). An amazing three days, very informative and very interesting information. I will be coming back in the future.

Lovely tutors!

Thanks Gaynor, Elizabeth and Sian for a lovely three day course.
Mar 4, 2015
What a wonderful course! In three days we learnt how to mould wet leather into a clamp mould...very scary! .....and on to make the finished moulds into two finished bags. As always the tuition was excellent, clear, informative, and with each person going at their own pace.

Gaynor and Enya were, as always, patient and happy to answer any questions giving us all lots of confidence in our ability.

We left with lots of information and the skill to make another bag on our own.

All this as well as a lovely gang of other students made for a fun three days

Cant wait to return for the five day course in the Autumn

With Fond Regards

Ali and Sorrel....or Laurel !
Feb 25, 2015
Very welcoming before we began.

Lots of help and guidance throughout the course without being condescending.

The aim for those running the course seemed to be to ensure we learnt a lot of skills, picked up lots of hints and tips so that we could carry on to make bags when we got home and to have good fun whilst doing it. Most of all they seemed to want to make sure we went home with the best possible bag we could make.

A lovely hard working team. Brilliant.