Leather Bag Making Tuition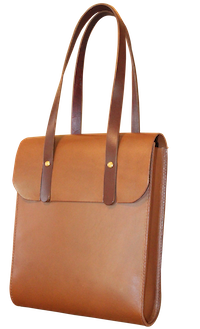 As featured in 'The Guardian', our extremely popular two day beginners Leather Bag Making weekend guides you through each step of making and traditionally hand-stitching your own beautiful leather tote, messenger or satchel.
This is a fabulous weekend's tuition for beginners or the more experienced …and you will leave with an amazing piece of work to be proud of!
Upon completion students will have:
Understood how to work with a template or pattern for professional results.
Developed skills to cut leather confidently using a clicker knife for both straight and curved cuts.
Gained a thorough understanding of the qualities and sections of the leather.
Become competent at using many of the leatherworker's hand tools.
Understood the process of preparing the leather for hand stitching.
Mastered the technique of 'preparing a thread'.
Become confident while using a harness awl.
Learnt how to saddle stitch with the aid of the saddler's clam.
Developed a professional edge finishing technique.
Used a hand press for precision cutting.
Fitted and secured metal hardware.
Practised sharpening a knife and harness awl blade.
Watched a demonstration of how to set a harness awl into it's haft.
Fully completed their leather tote, messenger or satchel.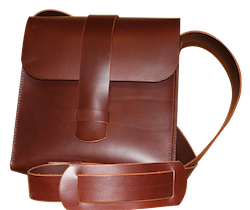 So, a completely 'hands on' weekend with plenty of support and encouragement as you construct your hand-made leather bag working from one of our pre-cut patterns.
Will I have learnt enough to make another bag at home?
Absolutely! After a weekend of tuition in our workshop you will have gained sufficient skills to continue making simple leather bag designs and there will be an opportunity to purchase a 'Beginner's Toolkit' and some vegetable tanned leather to get you started!
How much does it cost?
The full fee is £360.00 per person
You can book as an individual or come with a friend.  Please be assured that we won't cancel your booking unless its outside our control.
Tell me what's included in the price:
There are no hidden extras! All leather and attachments required to make your leather bag are included in the course fee.  Two full days of professional leatherwork tuition with course notes and plenty of help and advice in sourcing leather and materials so you can continue leatherwork at home.  A spacious work area is allocated to each student along with their own set of tools to use while they're here. A plentiful supply of tea and coffee are provided too, so all you'll need to bring along is yourself and a willingness to learn.

Please contact us for suitability and more information.
Where is the Leather Bag Making tuition held?
Our popular Leather Bag Making weekend is held at our small, but full equipped workshop in the picturesque Georgian town of Aberaeron in Ceredigion, West Wales…. We're on the coast, just minutes from the harbour; the perfect spot to visit and enjoy the course.
Where Can I Stay? Aberaeron town has a good choice of B&B's, many just a short walk from the workshop.
How do I book a place?
Simply click this Book Now button to book and pay for your tuition. Alternatively, you can request a date of your choosing; just contact us.
You can also buy a Gift Voucher
Course dates are:
JAN 2024 Sat 27th to Sun 28th
MAR 2024 Sat 2nd to Sun 3rd
MAY 2024 Sat 11th to Sun 12th
JUL 2024 Sat 27th to Sun 28th
SEP 2024 Sat 14th to Sun 15th
Leather Bag Making Course
Average rating:
58 reviews
Jul 19, 2021
Unutterably Superb. No amount of praise / rave review will do; this intro to bag-making is excellent, and simply cannot be faulted. Organisation, Content, Communication and Follow-up Support - all marvellous.

In the company of highly skilled, knowledgeable and gifted tutors, we were treated to not only guidance in the craft, but also came away with what we made - all were beautiful bags - and fantastic inspiration, to continue to develop and create more. Our tutors were superb - brimming with know-how combined with an easy, confident way of teaching which made everything a joy. Every question was answered fully, and well-informed - we were taken also, the extra mile and given all the benefit of experience and enlightenment.
We all love materials and tools, and GDH gave us the very best of both - a surefire start to a successful project.

Thank You
Sep 28, 2020
What a fantastic course. I've learned so many skills and produced an amazing tote bag. Thank you Gaynor, Julie and Hannah for sharing your expertise and patience. Everything has been well thought out from start to finish. What an incredible journey. For anyone thinking could I make that ?- the answer is - yes you can ! Highly recommended.
Dec 2, 2019
I've just finished this weekend bag making course and I'm delighted with my bag. Firstly I would like to thank Gaynor, Gary, Julie and the lovely Hannah for your help, patience and teaching me . I'm shocked at how much I've learned and can't wait to continue my leather making journey on my own xx