Leather Bag Making Course – Beginners Level
Description – Leather Bag Making Course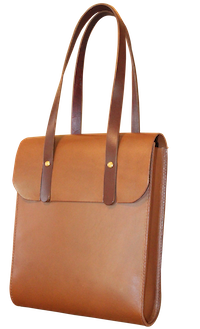 As featured in 'The Guardian', our extremely popular two day beginners leather bag making course teaches you how to make and traditionally hand stitch your own beautiful leather tote, messenger or satchel with vegetable tanned leather and waxed linen thread… All in a weekend!
This is a fabulous course for beginners or the more experienced …and you will leave with an amazing piece of work to be proud of.
Upon completion of this course students will have:
Understood how to work with a template or pattern for professional results.
Developed skills to cut leather confidently using a clicker knife for both straight and curved cuts.
Gained a thorough understanding of the qualities and sections of the leather.
Become competent at using many of the leatherworker's hand tools.
Understood the process of preparing the leather for hand stitching.
Mastered the technique of 'preparing a thread'.
Become confident while using a harness awl.
Learnt how to saddle stitch with the aid of the saddler's clam.
Developed a professional edge finishing technique.
Used a hand press for precision cutting.
Fitted and secured metal hardware.
Practised sharpening a knife and harness awl blade.
Watched a demonstration of how to set a harness awl into it's haft.
Fully completed their leather tote, messenger or satchel.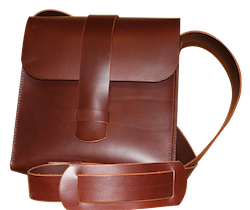 So, a completely 'hands on' course with plenty of support and encouragement as you construct your hand-made leather bag working from one of our pre-cut patterns – no maths necessary for you to enjoy this course! If you're not sure if this course is right for you, why not scroll down to the reviews given by previous students?
Will I have learnt enough to make another bag after the course?
Absolutely! By the end of the course you will have gained sufficient skills to continue making simple leather bag designs and there will be an opportunity to purchase a 'Beginner's Toolkit' and some vegetable tanned leather to get you started!
This course will also give you the skills to progress to our 'beginners+' level Leather Satchel Course
How much does it cost?
The full course fee is £330.00 per person
You can book as an individual or as a group – the perfect excuse for a 'get-together!'  Please be assured; we never cancel courses – once you have booked we guarantee the course will run.
Tell me what's included in the price:
There are no hidden extras! All leather and attachments required to make your leather bag are included in the course fee.  Two full days of professional leatherwork tuition with course notes and plenty of help and advice in sourcing leather and materials so you can continue leatherwork at home.  A spacious work area is allocated to each student along with their own set of tools to use while they're here. A plentiful supply of tea, coffee and afternoon cakes are provided too, so all you'll need to bring along is yourself and a packed lunch.
To ensure that everyone gets individual attention we have two tutors providing tuition to small groups of 6 only. Please contact us for suitability and more information.
Where is the course held?
Our leather bag making course is held in a beautiful 19th Century Welsh chapel at the foot of the Preseli Mountains in Pembrokeshire, West Wales…. Perfect surroundings to relax and enjoy the course.
Where Can I Stay?  Recommended guest houses and B&B's
How do I book a place on this course?
Simply click this Book Now button to book and pay for your course. Alternatively you can buy a Gift Voucher
Course dates are:
JUL 2018 Sat 14th to Sun 15th
JUL 2018 Thu 26th to Fri 27th
JUL 2018 Sat 28th to Sun 29th
SEP 2018 Sat 8th to Sun 9th
OCT 2018 Thu 18th to Fri 19th
OCT 2018 Sat 20th to Sun 21st
NOV 2018 Sat 17th to Sun 18th
Average rating:
53 reviews
Feb 27, 2018
I found the leather bag weekend course after stumbling across the 'Guardian' review of the weekend and I was really impressed with the finished bag in the article.Gaynor was so good at explaining and making sure the 3 students on my weekend understood every step of the process. I was initially apprehensive about cutting..and ruining... large pieces of beautiful leather. You gain more confidence as the weekend proceeds.Gaynor, along with her lovely staff ensured we finished our bags but had plenty of tea, cakes and chat.I really enjoyed the stitching which was absorbing. I'm so proud of my new leather bag. Thankyou soooo much for such a wonderful weekend. Will be back for sure.
Dec 13, 2017
I have long wanted to learn more about working with leather and was delighted to be given a place on the November course with Gaynor for my birthday this year! My husband researched long and hard as there are several on offer in various parts of the country - he chose GDH Leather Courses for its professional approach, lack of 'trendy' self consciousness and thorough attention to the craft of leather working. We watched all the film clips on the website as they were very helpful. Two very exciting days packed with information and emerging new skills with high ratio of tutors to participants (there were only 6 of us). From start to finish our days were carefully planned so that no one got left behind and we finished our beautiful bags by end of play on day 2. Gaynor, Julie and the two lovely Hannah's were expert coaches. We stayed at Marion Jones' lovely comfortable house in Northfield Road in Narbeth and Gary very kindly collected and deposited us back home again at the end of the day. I would completely recommend the course and would love to attend another at some stage.
Nov 30, 2017
My husband and I went on this week-end course, as he wants to make things from leather. he is now set up with a tool kit and the knowledge--so I hope for many leather handbags etc for me to use!! I went for the company but also to have a go. I have major problems with my hands and lack of strength--so I was helped a lot on this course--I was made to feel that this was not a problem. I had a go at most things but with little success. Sadly, I know that I am not going to be a leather maker. The ratio of staff to learners was 1 to 2--which was amazing! I have come home with a very lovely, leather, hand sewn bag that I will use with pride (I know I had little to do in its making!) I can fully recommend this wonderful friendly course--and the cakes for afternoon tea were delicious!
Nov 30, 2017
What a fabulous weekend. Not only were we staying in a remote part of beautiful Wales but we spent 2 days in a converted church, heated by a very effective wood burning stove, learning some incredible skills. Gaynor and her 2 helpers kept us on a tight schedule as we were taught how to choose and prepare our leather, how to cut - straight lines and curved ones, how to hand stitch - which is such an art - with the use of a saddler's clam. We were provided with biscuits and cakes at all the right times and with Gaynor's support and encouragement we both left with a beautiful hand-stiched bag and with a desire to return to do it all again.
Nov 28, 2017
---

Thank you Gaynor for delivering a wonderful creative experienceTogether with plenty of entertainment and cakes bought inPunctually every afternoon...I thoroughly enjoyed the experience and learnt a wonderful skillAnd so much appreciated the help and guidance from the lovelyHannah's and Julie. The log burner was so welcoming and theChapel simply divine! And I love my bag! I will be back for more.
Nov 28, 2017
I had a fantastic weekend on this course, learning the many elements that go into making a leather bag, meeting a great bunch of people & all in a delightful setting.Thank you to the very talented Gaynor and her skilled team for such a great insight into Leather work and their patience with my slow hand stitching!I'm thrilled with my finished bag and hope to be back in the future for the Moulded Leather Bag Workshop.Thank you!
Nov 20, 2017
What an excellent course!! It's well structured and the talented team keep everything moving, so you are never hanging about and are you are constantly learning. Which means you leave with a beautiful creation you can be proud of! Thank you Gaynor and your team!!!!!
Sep 27, 2017
What a delightful thing - I did very much appreciate the fact that I probably needed more help than the others and that with the gratefully -received assistance from both yourself and the two delightful Hannahs I have a beautiful bag which I will treasure for ever and, who knows, the experience might just encourage me to do something similar again.A big thank you to you all!
Sep 21, 2017
Thank you so much to Gaynor and the team.What a fabulous weekend! As an absolute novice in leatherwork I learned so much under the wonderful supervision of Gaynor & her team.I am delighted with the bag I created.I would highly recommend this course to anyone who has ever dreamed of learning this really rewarding craft.
Sep 20, 2017
The studio is a well equipped converted old Welsh chapel with a welcoming log fire. The number of booking per course is limited to maximum of six allowing the hard working teaching staff Gaynor and her knowledgeable assistants to devout considerable teaching time to each and every one in the group, whether by instruction or demonstration.The two day course was a wonderful learning experience, (unfortunately not long enough) and I'm hoping to return to do another. So for those considering taking up the craft seriously or otherwise, I would most certainly recommend " LEATHER COURSES B."Finally, my gratitude to Gaynor, Gary and the girls for an interesting and enjoyable two days.