Leather Bag Making Course – Beginners Level
Description – Leather Bag Making Course with professional tuition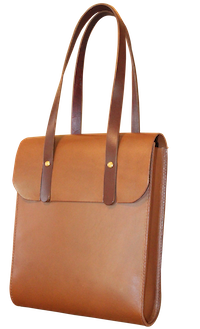 As featured in 'The Guardian', our extremely popular two day beginners leather bag making course teaches you how to make and traditionally hand stitch your own beautiful leather tote, messenger or satchel with vegetable tanned leather and waxed linen thread… All in a weekend!
This is a fabulous course for beginners or the more experienced …and you will leave with an amazing piece of work to be proud of.
Upon completion of this course students will have:
Understood how to work with a template or pattern for professional results.
Developed skills to cut leather confidently using a clicker knife for both straight and curved cuts.
Gained a thorough understanding of the qualities and sections of the leather.
Become competent at using many of the leatherworker's hand tools.
Understood the process of preparing the leather for hand stitching.
Mastered the technique of 'preparing a thread'.
Become confident while using a harness awl.
Learnt how to saddle stitch with the aid of the saddler's clam.
Developed a professional edge finishing technique.
Used a hand press for precision cutting.
Fitted and secured metal hardware.
Practised sharpening a knife and harness awl blade.
Watched a demonstration of how to set a harness awl into it's haft.
Fully completed their leather tote, messenger or satchel.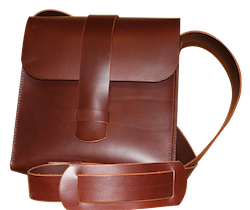 So, a completely 'hands on' course with plenty of support and encouragement as you construct your hand-made leather bag working from one of our pre-cut patterns – no maths necessary for you to enjoy this course! If you're not sure if this course is right for you, why not scroll down to the reviews given by previous students?
Will I have learnt enough to make another bag after the course?
Absolutely! By the end of the course you will have gained sufficient skills to continue making simple leather bag designs and there will be an opportunity to purchase a 'Beginner's Toolkit' and some vegetable tanned leather to get you started!
This course will also give you the skills to progress to our 'beginners+' level Leather Satchel Course
How much does it cost?
The full course fee is £340.00 per person
You can book as an individual or as a group – the perfect excuse for a 'get-together!'  Please be assured; we never cancel courses – once you have booked we guarantee the course will run.
[rev_slider leather-bag-course]
Tell me what's included in the price:
There are no hidden extras! All leather and attachments required to make your leather bag are included in the course fee.  Two full days of professional leatherwork tuition with course notes and plenty of help and advice in sourcing leather and materials so you can continue leatherwork at home.  A spacious work area is allocated to each student along with their own set of tools to use while they're here. A plentiful supply of tea, coffee and afternoon cakes are provided too, so all you'll need to bring along is yourself and a packed lunch.
To ensure that everyone gets individual attention we have two tutors providing tuition to small groups of 6 only. Please contact us for suitability and more information.
Where is the course held?
Our leather bag making course is held in a beautiful 19th Century Welsh chapel at the foot of the Preseli Mountains in Pembrokeshire, West Wales…. Perfect surroundings to relax and enjoy the course.
Where Can I Stay?  Recommended guest houses and B&B's
How do I book a place on this course?
Simply click this Book Now button to book and pay for your course. Alternatively you can buy a Gift Voucher
Course dates are:
SEP 2020 Sat 26th to Sun 27th - FULL
OCT 2020 Sat 24th to Sun 25th
JAN 2021 Sat 16th to Sun 17th
FEB 2021 Sat 13th to Sun 14th
Leather Bag Making Course
Average rating:
55 reviews
Jul 12, 2019
I recently attended the course and although I feel I was the most needy of the students I was 100% supported as all on the course were. Lots of words of encouragement and the resulting bag I absolutely love. I'm in awe of Gaynors knowledge and skills and can highly recommend the course !
Jul 1, 2018
An amazing course! They give you full attention and help to make you get everything correct to have your bag perfect. Gaynor, Gary and all team are very kind, nice tea break and lovely fire. Looking forward to do it again!
Feb 27, 2018
I found the leather bag weekend course after stumbling across the 'Guardian' review of the weekend and I was really impressed with the finished bag in the article.

Gaynor was so good at explaining and making sure the 3 students on my weekend understood every step of the process. I was initially apprehensive about cutting..and ruining... large pieces of beautiful leather. You gain more confidence as the weekend proceeds.

Gaynor, along with her lovely staff ensured we finished our bags but had plenty of tea, cakes and chat.

I really enjoyed the stitching which was absorbing. I'm so proud of my new leather bag. Thankyou soooo much for such a wonderful weekend. Will be back for sure.