'Waxing the Thread' the ins and outs of leatherwork
A UK magazine for leatherworkers… at last! Published here at GDH in West Wales, 'Waxing the Thread' is a 36 page A4 print magazine for hobbyists and all who are interested in traditional leatherwork.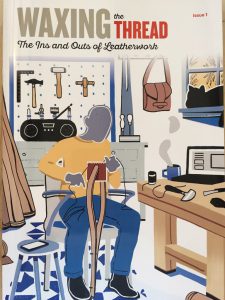 With a limited range of books available for the traditional leatherworker – and no UK leatherwork magazine that we know of – we set to and created a magazine for leatherwork hobbyists. Modern yet traditional, 'Waxing the Thread' aims to assist hobbyists and introduce newcomers into the craft. Issue 1 starts as you might expect, at the beginning, with Project 1 being the most basic level of entry. This project is achievable for complete novices as well as those who'd like a 'reminder' of the order of things. Pop the magazine on your workbench and follow the full step-by-step guide, which will hand-hold you right through the project. We've also included an essential step-by-step introduction to pattern making, plus a secondary project which will help readers reinforce their new pattern making and basic leatherwork skills.