GDH Leather Courses – About Page
Who we are and what we do
GDH Leather Courses is Pembrokeshire's original, professional leatherwork course provider – we have recently relocated our workshop to Ceredigion where you can now find us in the beautiful, Georgian harbour town of Aberaeron.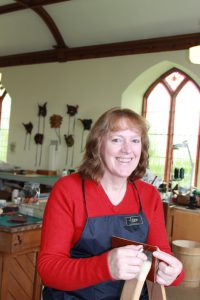 We offer traditional leatherwork courses run by Gaynor Davies-Howell of GDH Leatherwork Ltd.  We have been running one-to-one and group courses since 2010. Our popular Leather Bag Making Course has been featured in 'The Guardian's Do Something' supplement, on The Lady Magazine website, and in many popular national and local magazines. For your added reassurance, we also have plenty of very happy students who have left glowing reviews at the bottom of each course page.
Picturesque Places
Our courses, once run from an old village chapel in Pembrokeshire, now take place in our smaller workshop at Aberaeron Craft Centre, in Ceredigion, West Wales. Along with the workshop downsize, we have also reduced student numbers to just 2 or 3 students per course. We still offer one, two, three, and four day professional leatherwork courses which are equally suitable for both men and women.  And as you'd expect, we still have a fully equipped workshop and continue to provide knowledgeable tuition in a stress free and friendly manner; why not come and join us for a day or two spent learning the skill of traditional leatherwork?
We run a variety of leatherwork courses ranging from a beginners' one day Introduction to Leatherwork, to a four day Open Course. Perhaps you'd like to try something artistic such as leather sculpture on our one day leather Mask Making course, or come along to our hands-on Leatherwork Weekend Taster course to experiment with leather workers' tools and techniques.
If you're thinking of coming along on your own, don't be concerned as you can be assured of a warm welcome. You can also be assured of plenty of support and encouragement during the course. Many of our leatherwork courses are suitable for complete beginners and we're happy to advise if you're not sure. Just drop us an email and we'll get straight back to you.
We also offer 1-2-1 tuition either in-person or online so, just get in touch if you'd like to make a booking either during the week, or on a weekend.
And to make things really easy, there are a good choice of B&B's in the small harbour town of Aberaeron, with many just a short walk from the workshop.
Hope to see you soon.