Leather Mask Making – Art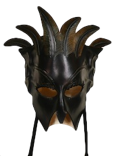 Leather Mask Making – Artistic & Theatrical!
This one day beginners, introduction to making leather masks is the perfect opportunity to be creative. A mix of sculpture, art and design all in one. A full taster day of leather moulding and wet-forming, dyeing and finishing, resulting in an amazing masterpiece you'll be proud to take home!
You'll spend the day designing, cutting, and wet-forming your mask, using vegetable tanned leather, a pre-made profile and leatherworker's hand tools. You'll learn the secret to forming a structured mask that holds it's shape permanently, without the need for wires or rivets that can distract from the features of the mask which you so thoughtfully designed.
Leather mask making is very well suited to costume makers, theatrical tutors and students, as well as artists and crafts people. Not too challenging, but lots of fun and a fantastic introduction to this intriguing art. Drawing skills are not required … just a good imagination!
How much does it cost?
The fee is £195.00 per person
Please note, we can only run the class for 2 or 3 students. You can book as an individual or as a small group of 3).
Tell me what's included in the price:
Everything! Leather, dyes, course notes and plenty of encouragement are all provided along with a plentiful supply of tea and coffee.  All you need to bring along are a few ideas and plenty of enthusiasm!
Mask profiles, leather and professional dyes are sometimes available to purchase on the day, for students who would like to make another mask at home.
To ensure that everyone gets individual attention we run small group classes of up to 3 students. Please contact us for suitability and more information.
Where is the Leather Mask Making tuition held?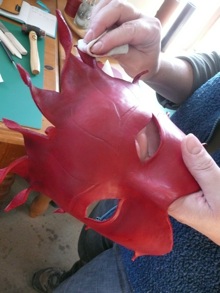 At our small, but fully equippped workshop in the picturesque, Georgian town of Aberaeron in Ceredigion, West Wales…. We're on the coast, just minutes from the harbour; the perfect spot to visit and enjoy the day.
Where can I stay?

Aberaeron town has a good choice of B&B's, many just a short walk from the workshop.
How do I book a place on this course?
Simply click this Book Now button to book and pay for your course. Alternatively you can buy a Gift Voucher
Course times are:
9.30 am – 5.00/5.30 pm
Course dates are:

Leather Mask Making Course
Average rating:
13 reviews
Oct 31, 2017
What can I possibly say more than that which two fellow course members have already said?
This was only my 3rd leather workshop - all covering different topics - all run by experts in their field with a passion for sharing and encouraging their 'students' to take what they have learnt and 'go on & do more'.
I had a lovely time with Gaynor and her trainee/assistant Hannah. Lovely - warm, and it was in this airy space - educational, encouraging, humourful, skill-ful, with copious tea/coffee, even cake - what more could one ask?
I hope to put my newly learned skills into practice soon - just as I hope to continue to meet such teachers as Gaynor.
Deep Joy.
Oct 30, 2017
A thoroughly enjoyable day in a perfect settling. We came away with masks we are proud of and inspired to create more at home. I would definitely recommend this course. Money well spent.
Oct 30, 2017
It was a terrific day and I came away knowing that I'd learned a new skill and with an amazing mask! Gaynor and Hannah are terrific
Page 1 of 5:
«
‹
1
2
3
4
5
›
»