Making A Leather Bag By Hand
Do I ever make things with my hands? Gaynor Davies-Howell, our teacher for two days, asks the question with a note of concern in her voice. I rack my brains: does cooking count? I'm creative, but don't have the inclination or patience to sew, knit or sculpt. But I understand what she's thinking: can I handle a knife and a needle?
We are holed up in a tiny former chapel in the small village of Penffordd in Pembrokeshire, preparing to make our own leather bags. The nearest station, Narberth, is a request stop: you flag down the single carriage as if you were hailing a bus The room smells of leather, and a wood-burning stove crackles in the corner.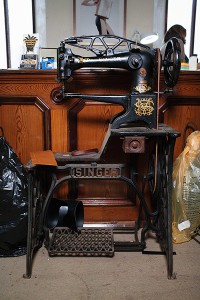 Our first job is to choose our style: satchel, messenger or tote. I opt for the tote – an elegant design, in a stylish dark red leather with camel-coloured straps. To my untrained eye, it doesn't look unlike something by Hermès.
Gaynor's apprentice, Enya, unrolls a huge, vegetable-tanned Italian cowhide – cut from the shoulder, the second strongest part. Seeing the beginnings of my bag in its raw form is thrilling.
I carefully cut its outline to a stencil using a scalpel and ruler, followed by the side panels – gussets. The leather is robust but soft, and it yields after a couple of attempts. Next I dye the pale exposed edges using a small brush, then "burnish" them, rubbing them fast with a cotton cloth so that they seal and shine.
I cut lengths for the straps from a piece of tougher hide. I shave the edges smooth, slice off the ends so they're rounded, and punch holes and slits for the studs. There's a tool, most of them worn smooth with age, for every tiny job.
After lunch, it's time to practise our saddle-stitching: sewing both sides of a seam at once. I can't remember the last time I sewed anything, but hand-stitching is what stands Gaynor's leatherwork apart from mass-produced goods, she says. If anything about my bag is going to give away my amateur status, it's wonky stitches.
We glue two pieces of scrap leather together, and score a line about half an inch from the edge along which we imprint stitch marks to guide our needle. One method, using a "pricking iron", which looks like a fork, is laborious and hard to get straight; the other uses a "pricking wheel" – like a pastry edger – which zips along neatly but is much less satisfying.
We thread two needles at each end of a piece of cotton, after coating it in beeswax to strengthen it. We clamp the leather in a wooden vice, a "stitching clam", and using an awl (a small knife) we make holes in the leather along the marks – needles alone aren't enough. One false move here, I discover, and my stitches don't stand a chance.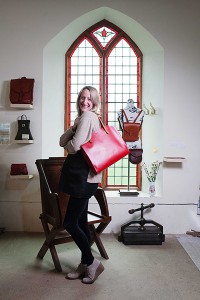 My holes are all over the place, many entering the leather at an angle, so my stitches resemble a set of tiny, uneven teeth. As the light and my concentration levels start to fade, we call it a night.
The following morning, I glue the gussets to the main bag leather and attach bulldog clips. It's the first time my disparate pieces have resembled a bag, and it's exciting. I wait for the glue to dry while I prepare my needles.
My stitching gets off to a better start. It's slow going – two hours later I've completed one side only – but the concentration required means the time has flown.
Sewing leather is immensely satisfying; it feels like an exercise from a bygone era, as if I'm sewing gauntlets in the 16th century. With my technique flowing, I complete the second side in half the time. I sand, dye and burnish the edges, glue and screw in the studs and suddenly my bag's complete. I'd pay good money for this, I think.
On the train home, inspecting my old, beloved leather bag, I'm disappointed that the stitches appear machine-made: I have new appreciation of what "handmade" means. I take the new bag to work the following day and await comments. The first arrives mid-morning: "I love your bag, where's it from?" I can say proudly: "I made it myself."
Article 'Making A Leather Bag By Hand', reproduced with the kind permission of The Guardian – http://www.theguardian.com/lifeandstyle/2014/jun/23/making-leather-bag-by-hand
Photographs: Gareth Phillips for the Guardian