Bag Design in 6 Easy Steps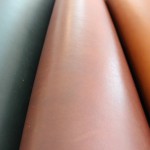 Bag Design
Designing a bag needs careful thought and planning. If you want your bag design to be successful then consider the following points before cutting into your leather!
Functionality:  Give yourself a 'design brief' which will help ensure that your bag design is fully functional and becomes a favourite with it's wearer.  Think about the bags main purpose. What will it be used for? What will it carry? Should it be lined? How many pockets will it need, if any?  Will the pockets need to have fasteners? Will the bag benefit from having bag feet? These questions are important if your design is to be successful.
Weight: This is an important factor for consideration when making a leather bag. Think about the empty weight of the bag beforehand, bearing in mind that additional pockets and leather lining will increase the weight further! On overly heavy bag may discourage use.
Pockets: It can be irritating when there are insufficient pockets in a bag, or when the pocket sizes are unsuitable, so it's a good idea to give these some careful thought during the design phase.  Pockets should easily accommodate everyday items such as mobile phone, bus or train pass and should also be easily accessible.
Security: This is important particularly for rucksack wearers, so consider your options for fasteners carefully. Fasteners need to provide security when wearing the bag or rucksack in busy or crowded places.  Zips are a popular choice for security, but bear in mind that when making a leather bag, even the best zips could fail before the bag reaches the end of it's useful life; so perhaps consider an alternative style of fastener that will last the lifespan of the bag or fit something that can easily be replaced if necessary.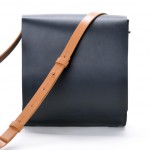 Straps: Adjustable straps are the best option as the bag can be worn either on one shoulder, or across the body. Take care when deciding on the width of a shoulder strap, that it sits comfortably on the shoulder.  Heavier messenger style bags should be fitted with a shoulder support.
Handles:  Your choice of bag handle should be determined by the style of bag combined with it's intended purpose. A bag intended to carry a heavy load such as a laptop etc should be fitted with a long, adjustable strap as well as the traditional short carry handle. Handbags that are fitted with a pair of handles will be more comfortable to carry if the handles are rounded, rather than flat.
TIP: The bag design is just the first step; Visit the GDH Leather Courses blog post, Leatherwork Project – 6 Steps To Success for help with turning your design into reality!