Description – Leather Boxes Course
A three day leatherwork course for students who would like to develop the skills to make beautiful leather keepsake and memory boxes. The 'Leather Boxes Course' will help you to master 'butt' and 'box' stitching whilst creating two, cylindrical pots or keepsake boxes. Working with natural vegetable tanned leather and beautiful British wool, students will be taught how to hand craft their choice of container, including fitting structured inserts and lining the interior, for a truly luxurious finish. All projects will be fitted with a cap or lid.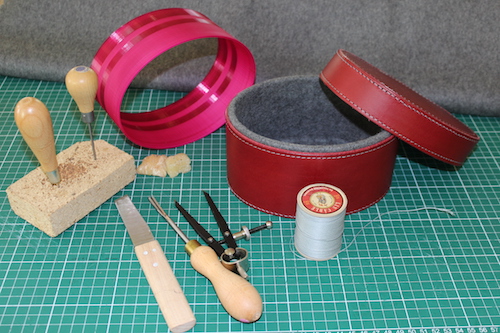 Students will have a choice of pre-made patterns to work from during the course, although understanding the measuring technique will be part of the course programme. There will also be a selection of leather, thread and interior wool colours to work with and students will be given printed 'assembly' instructions to work from, which can then be taken away with them. Students will be encouraged to create two cylindrical keepsake boxes, one of which will be completed at home with the aid of a personal 'completion programme'.
Throughout the course, students can expect the use of their own toolkit, workstation and support from a professional tutor. Leather and wool will be available to purchase for students who would like to continue making these beautiful items at home.
The Leather Boxes Course is at intermediate level so complete beginners will first learn to 'saddle-stitch' on Day 1 of the course. It is run as part of the 'Open Course'.
How much does the course cost?
3 day course fee: £570.00 per person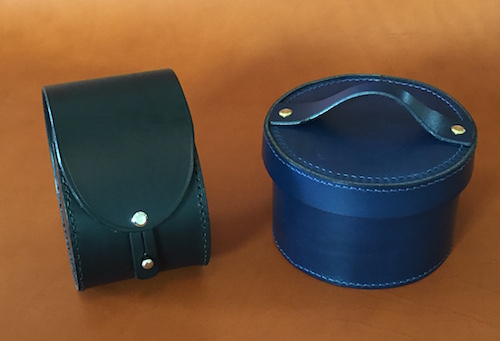 Tell me what's included in the price:
All leather, other materials and attachments required to make your cylindrical keepsake pots or containers, are included in the course fee. Three full days of professional leatherwork tuition with detailed course notes and plenty of help and advice in sourcing leather and materials so you can continue developing your skills at home.  An ample supply of tea and coffee is provided too, so all you'll need to bring along to this leather course is yourself and a willingness to learn.
Where is the course held?
Leatherwork tuition takes place at our workshop in the picturesque Georgian town of Aberaeron in Ceredigion, West Wales. We're on the coast, just minutes from the harbour; the perfect spot to visit and enjoy the day.
How do I book a place on this course?
Simply click the Book Now button, fill in your details and we will be in touch very shortly with payment instructions, normally via cheque, BACS or Paypal… Book Now.   Alternatively you can buy aGift Voucher
Course start dates are:
Leather Boxes Course
Average rating:
2 reviews
Jul 2, 2018
I found this course really thought provoking. The beautiful quality items needed were provided but it was good to have to work out how to make the lining fit the inner core, how to add extras like a hinge for the lid and the fastening, how the lid would fit the lined base. All new experiences not done once but done twice for two boxes. One of which was personalised, assisted by Gary's know how.

It was useful having basic knowledge as I learnt two other forms of stitching. All of the skills shown in a professional and expert way with good humour and friendliness. It left me with more confidence to try what seem to be more difficult items in the future.

I enjoyed the course very much and would recommend it to anyone who wants to try something different.

Thanks for a great time.
Jun 6, 2018
I found this course challenging and really enjoyable. Learning new techniques and the construction of the boxes meant that the course was fast moving and varied. I was delighted with my keepsake box and have made a second one at home which went very well. As usual, Gaynor and the team were helpful and inspiring and the atmosphere was as fun as always!