Leather Satchel Course – Beginners level
Description – Leather Satchel Course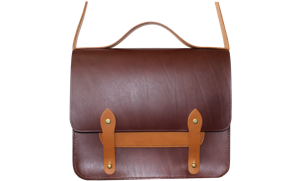 This popular Leather Satchel Course will teach you how to prepare, make and hand stitch a vegetable tanned, leather satchel in just two days! Similar in style to the traditional school satchel you'll make a lightweight leather bag or rucksack which is designed to carry your tablet as well as other essentials.
You will be working from a choice of pre-prepared patterns and while you are here, you will learn how to cut leather, prepare, assemble and hand stitch together your satchel with traditional, waxed linen thread. You will also cut and fit billets, adjustable straps, an exterior pocket and learn how to create beautifully finished cut-edged seams. Although this is a 'beginners+' level course, complete beginners are very welcome so if that's you, don't be afraid to sign up!
All students will be encouraged to try their hand at tool sharpening and will have the opportunity to purchase a beginners toolkit if they'd like to continue making hand stitched leather items at home. Printed course notes are available for students, as well as information about how and where to source leather.  Students are encouraged to ask questions and will benefit from general workshop conversation. Students of all levels and abilities will gain knowledge and enjoyment from attending this course.
With the support of a professional tutor, a small group of just two students and all the encouragement you'll need, you will not only leave the course with a beautiful two-tone leather satchel, you will also leave with an enormous sense of achievement!
How much does it cost?
The course fee is £360.00 per person
You can book as an individual or as a small group – the perfect excuse for a 'get-together!
Tell me what's included in the price:
There are no hidden costs! All leather and attachments required to make your leather satchel are included in the course fee. Two full days of professional leatherwork tuition with course notes and plenty of help and advice in sourcing leather and materials for you to continue leatherwork at home.  A spacious work area is allocated to each student along with their own set of tools to use while they're here. A plentiful supply of tea and coffee are provided too, so all you'll need to bring along is yourself.
This course is the next step up from our beginners level, Leather Bag Making Course but is also suitable for students who are new to leatherwork.
Please contact us for suitability and more information.
Where is the course held?
Our fabulous Leather Satchel Course is held at our small, though full equipped workshop in the picturesque Georgian town of Aberaeron in Ceredigion, West Wales…. We're on the coast, just minutes from the harbour; the perfect spot to visit and enjoy the course.
Where Can I Stay? Aberaeron town has a good choice of B&B's, many just a short walk from the workshop.
How do I book a place on this course?
Simply click the Book Now button, fill in your details and we will be in touch very shortly with payment instructions, normally via cheque, BACS or Paypal…Book Now.   Alternatively you can buy aGift Voucher
Course dates are:
JAN 2024 Sat 27th to Sun 28th
MAR 2024 Sat 2nd to Sun 3rd
MAY 2024 Sat 11th to Sun 12th
JUL 2024 Sat 27th to Sun 28th
SEP 2024 Sat 14th to Sun 15th
Leather Satchel Course
Average rating:
4 reviews
May 22, 2017
This was a great course. The training you get, the technical know how, help and tips are top class. The people are very nice too !
Aug 22, 2016
Another brilliantly enjoyable course from Gaynor and her team. The workshop is well set out giving each person plenty of space to work with all the tools they need immediately to hand. The tuition is clear and responsive to the level and skill of each person. As always good humour is in plentiful supply too! I thoroughly recommend anyone thinking about doing a course - just go ahead and book! You will have a great time and produce something beautiful to be proud of. Thank you gals!
Jul 25, 2016
Fabulous weekend with a fabulous handbag at the end! What's not to like?
I thought the whole course very instructive and has fired no end of enthusiasm for future projects.
I've bought some books already and planning a trip to the Balls Pond Road to suss out leather.
Many thanks to Gaynor, Elizabeth and Sian for being brilliant teachers and steering me,
particularly, through some HANDBAGGY panics!
Also loved your part of Wales-I'd never been before, and the accommodation at Plas Farmhouse
was lovely.
Hoping to see you all again in the future,
Regards Alison Clark