Introductory Training Day – for budding leatherworkers.
Description – An Introduction To Leatherwork
Take your first steps to becoming a skilled leatherworker with the help of this introductory leatherwork day – professional tuition, help and advice to ensure that get you started on the right track!
On this introductory leatherwork course, students will learn how to use leatherworker's tools, work with a pre-made pattern, accurately cut and prepare leather, then spend an enjoyable afternoon creating the project of their choice. Each student will also master the skill of traditional saddle stitching so that they may continue to practice at home. This introductory day places emphasis on teaching students many of the basic skills needed for leatherwork and students should be assured that the professional tuition given will equip them with ample skills to enable them to progress to the next level.
Suggested projects suitable for this class include; Belt or belt pouch, small card slip or wallet, small clutch bag or tablet sleeve, mobile phone slip or similar project.
By the end of the day students can expect to have:
Learnt how to understand and work with, a card template, or pattern.
A good understanding of the material and what is meant by the term 'vegetable tanned' leather.
Become competent at using a leatherworker's knife for both straight and curved cuts.
Practised how to prepare the leather for hand stitching using a selection of leatherworker's tools.
Mastered the technique of 'preparing a thread'.
Become confident while using a harness awl.
Learnt how to saddle stitch with the aid of the saddler's clam(p).
Developed a good edge finishing technique.
Used a hand press for precision cutting.
Fitted and secured basic metal hardware.
Practised sharpening a knife and harness awl blade.
Students are not restricted to making tablet sleeves and will have a variety of other project patterns to choose from.
*Please note: Tablet sleeve patterns will be available in a variety of sizes and can accommodate electronic devices with a maximum depth (thickness) of 20mm. Students should bring their device with them if they are intending to make one of these beautiful sleeves.
Will I be able to continue my new hobby after the training day?
Absolutely! Having completed this 1-day course you will have gained sufficient skills to continue making basic leatherwork projects and you may even take a copy of the pattern you use, home with you.  There will also be the opportunity to purchase a 'Beginner's Toolkit' and some vegetable tanned leather to get you started!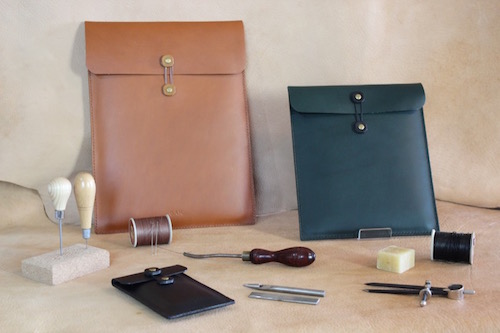 How much does the 1-day course cost?
The full price is £195.00 per person, payable in advance.
Tell me what's included in the price:
There are no hidden extras. All leather and attachments used during the day are included in the course fee. A workspace is allocated to each student and tools, tea and coffee are provided too so all you'll need to bring along is yourself and a willingness to learn. A full day of professional leatherwork tuition with class notes and plenty of help and advice in sourcing leather and materials so you can continue leatherwork at home. 
We like to ensure that our students receive individual attention so we provide tuition to small groups of 2 students only. Please contact us for suitability and more information.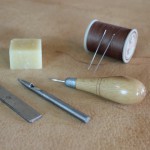 Where is the Introducton to Leatherwork held?
Leatherwork tuition takes place at our workshop in the picturesque Georgian town of Aberaeron in Ceredigion, West Wales.  We're on the coast, just minutes from the harbour; the perfect spot to visit and enjoy the day.
Where can I stay?
Aberaeron town has a good choice of B&B's, many just a short walk from the workshop.
How do I book a place?
Simply click the Book Now button, fill in your details and we will be in touch very shortly with payment instructions, normally via BACS or Paypal… Book Now.  Alternatively, you can request a date of your choosing; just contact us.
You can also buy a Gift Voucher
Tuition Times are:
9.30 am – 4.30/5.00pm
Course Dates are:
JAN 2024 Sat 20th
MAR 2024 Sat 23rd
MAY 2024 Sat 25th
JUL 2024 Wed 10th
An Introduction to Leatherwork
Average rating:
9 reviews
May 2, 2022
I spent a brilliant day on the Introduction to Leatherwork course last week. I learnt so much from Gaynor and was inspired to do more. We covered so much in the day and I came home with a beautiful belt that has been much admired. The old chapel is a great workshop in beautiful surroundings. I've already tried to make a leather needle holder and have ordered some tools. I plan to return for another course to increase my skills.
Feb 1, 2019
I did a weekend leather course at GDH this past October and absolutely loved it. Between Gaynor and her team, there was always someone to guide you along in the process which was the best part. I walked away with lots of new skills that I'm excited to apply in personal projects. Looking forward to taking more courses in the future!
Nov 8, 2017
Absolutely fantastic day! I booked the course for a friend and myself and came away completely inspired. I was not sure whether I would be able to manage it as I have arthritis in my hands but it was not a problem. Gaynor and her team were wonderful, made everything seem easy and the workshop in the old chapel was inspiring. I can't wait to get some tools and get going on some more projects